Final report on the Independent evaluation of the adaptation portfolio and approach of the Green Climate Fund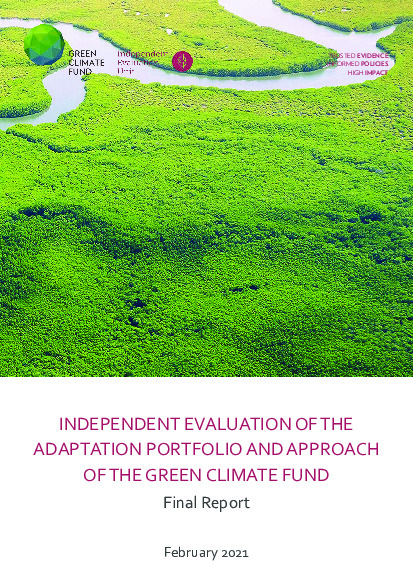 Download
Final report on the Independent evaluation of the adaptation portfolio and approach of the Green Climate Fund
In climate change science, adaptation means preparing for and adjusting to climate change's current and future effects. This evaluation of the GCF's adaptation portfolio and approach assesses what it takes for the GCF to contribute to adaptation interventions with greater scale, depth and duration in developing countries. It highlights how the GCF can facilitate scaling and growth through its unique ability to finance projects at scale. The evaluation shows how the GCF:
Can apply its convening power to increase coherence and complementarity with other climate funds and adaptation actors
Can use its readiness programme for adaptation planning to offer support and guidance to meet country needs
Needs a strategy for encouraging the private sector's adaptation role
Requires a wider range of financial instruments with higher co-finance ratios to help close the adaptation finance gap
The evaluation's recommendations will support the GCF's mandate to facilitate a paradigm shift in adaptation.
Authorship
Binet, Silvia, Matthijs De Bruijn, Daisuke Horikoshi, Rene Kim, Byungsuk Lee, Max Markrich, Peter Mwandri, Kulthoum Omari-Motsumi, Martin Prowse and Galyna Uvarova
Document type
Evaluation report